On this page you find all information concerning the venues, suggestions for hotels as well as a brief description about how to get to the conference. If anything is missing, or you have questions, please don't hesitate to contact us!
Festsaal Kreuzberg (Conference, Main Event)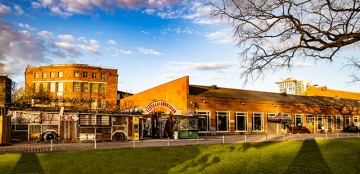 Since our beloved home, the Admiralspalast Studio closed its doors, we had to find a new home for our 6th Berlin edition. It was a long and exhausting search, but we finally made it and are happy to introduce our new venue for Berlin (Photo by Sophia Vogel).
Join us for the very first show at Festsaal Kreuzberg and help us creating the cozy and warm atmosphere beyond tellerrand is known for. Located in the heart of Berlin Kreuzberg with a great character in this listed building, we decided to go with this venue after checking many many other options.
Festaal Kreuzberg
Am Flutgraben 2
12435 Berlin